Warehousing & Fulfillment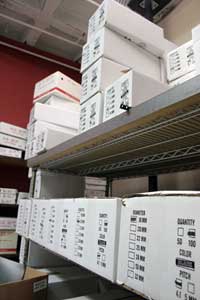 Supply franchisees, company stores or sales offices nationwide by using fulfillment services from our inventory. Our state-of-the-art, climate-controlled warehouse facilities keep your marketing materials in perfect condition.
As far as smaller office needs or emerging print-on-demand goes, we can pick and pack, kit and tube marketing materials as well as print on demand and distribute to anywhere in the nation. Our warehouse and fulfillment capabilities have helped businesses in and around Hauppauge, Long Island and the tri-state area.
Our staff of experts cares about your materials as much as you do. Let's talk about how we can best take care of your warehouse and fulfillment needs.